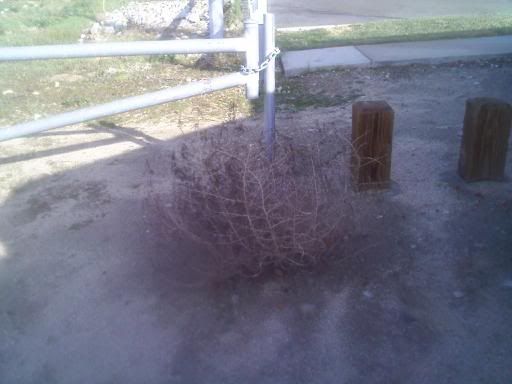 Only except I am in California.
I was cleared from PT, but not from my doctor. since I still have a cold and looked like rain, I decided to walk.
The usual stroll down baseline to Etiwanda was interrupted by me noticing that the Filippi winery had pruned their vines. It was a Grey wintery day. I walked to the trail and out to East ave. I noticed that a construction crew was putting a light there and the trail appeared to be done to the 15 freeway (which is as far as Rancho Cucamonga goes)
I was going to walk back over to Milliken, when I noticed a path intersecting the trail. The neighborhood has of Bridal/Equestrian path, and short of any "no walker allowed" signs, I said why not?
And it turned out good! a nice break, plus lot of view of the back of folks houses.
Well there was one vacant field that I went by twice. Plus that old tumbleweed.
Still my forerunner said 5.9 miles and 720 calories(my travails with it have given me some ideas, software development wise). a good day , and I got back in time for social hour, which was a bummer, as Allen went over the hood of a car on Euclid ave. we finally got him to agree to go to the Er and talk to a lawyer.
But even winter can be beautiful. I meant to a pic of The Thomas Bros winery/Bobby Baja's building, as it was spectacular. (maybe tomorrow)
and tumbleweeds, somebody made art of them:
FHS, Jana