Well , this may not appear to be Bicycle Related at first
I was having problems with My Saris bones rack on my Ford Focus, and heck it seemed like every time I turned around I was putting money into it. And it's paid for.
I think had mentioned that I had some window shopping. Well Friday, I noticed that Citrus Motors had both a Kia Rondo and a Mazda 5 in stock via the Inland Valley Daily Bulletin. So I Loaded up the Giro and headed to the autocenter
Once I explained what I was up to , the Salesman, Jan, pulled over a grey Rondo:
We folded down the seats, aqnd the Giro fit without disassembly. Cool Beans! So we took off for a Test drive. Jan told to to drive wherever I wanted. We went to the Airport (it was an ex-rental) and back. And true to SoCal, the freeway Portion involved a Traffic Jam.
So we came back and tried a Mazda 5: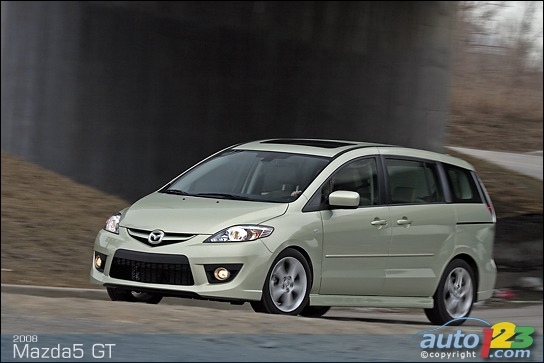 we pulled it up next to the Rondo and the focus. Things looked until we tried to fold the seats. Insert slot a into tab while picking your nose and humming the appropriate national anthem. Hmm, Those Mazsa engineer could learn a thing or tow from their Korean Conterparts.
We also looked at the Kia Sportage:
Not quite enough
So went across I-15 to the Honda dealer. I had mentioned the fit, Not in Stock. So we drove an Insight:
The first thing the salesman asked me was "what Can I do to put you in this Insight Today?" Umm, give it to me?
And I didn't really like it. The a/c would turn off when the motor shut off, I could'nt get the mirrors adjusted where I could see good enough, and I deviated from the official test course. So on to the Element(hey, I can find another dealer:
I felt like I was driving my cousin earl's semi.
Speaking of trucks, when I pulled in to the Toyota Dealer, The salesman said, "I know exactly what you need!" He produced a 2008 Toyota Tacoma with a Camper cap. The bike fit. unlike the honda dealer, where the bike did not get off the Bones
While I did the approach better, the price was little high, and I've never been good at bargaining for cars
I had thought about some more vechile, like the Saturn VUE, or the Dodge Journey. But , unfortunately, I ran out of time, and then you add in the Status of Saturn and Chrysler led me with a bit of a case of the willies (the VUE will go away, and I can the "new" Chrysler selling Jeeps, Trucks, and Fiats.
and then I was buying foreign again. Or was I ? yes, Kia is a Korean company, and the Rondo was manufactured there. But there US headquarters is in Irvine. And they do have US engineers on staff, a test track out in California City . Plus they are building a plant to assemble
the 2011 Sorento in West Point, GA. I though about waiting, but wasn't impressed by the looks of it. The car business is getting diffcult. Do I want the Ford made in Turkey, the Dodge that's actually an Alfa Romero made in Mexico or the Kia from georgia? And is the Rondo a car? or a Van? or a SUV? wait my registration says it's a truck
So I put myself in debt to Ford Motor Credit again today:
Next week: bicycling . Maybe!