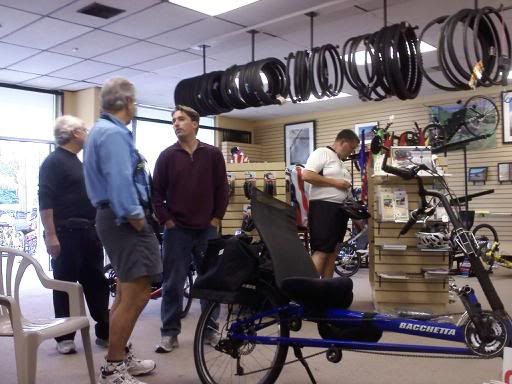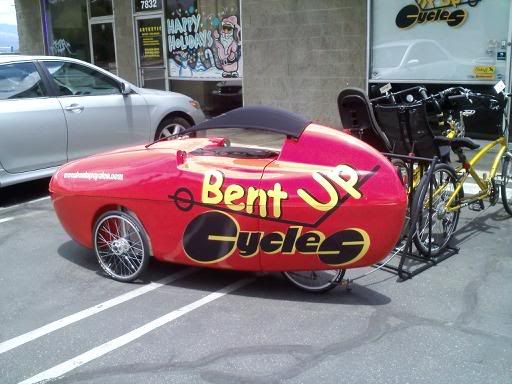 Today is almost like feburary here - rain and high only in the 60's
I decided to take my old bike. The problem was which ride to do. The Fontana Days
half marathon
was today , and my bike club usually run support for it. But It's and early start, and probably a late finish, and I need to go to BentUp in Van Nuys to get some stuff.
So I was going to do the "grind" ride. But I woke up at 4:45 tossing and turning. So I got up and decided to see if you could up to Lytle Creek Road by 6:15. I made it at 6:45 oh well!
I got to the coffee shop early, so I went inside and got some joe. My mascot had stay outside:
So I did the medium version of the grind. I didn't want to teh long version with the climb up Mt Baldy road since I had ridden the bike since my accident, only except there was no one there at the turnaround point:
It was that bad, But I think my girly part need to get used to being sat on! I also noticed that I spinng a lot more.
I made it back and found Bruce Taylor and Tom Tisler conversing (apology's for the condesation on the photos)
I had wondered what happened to Bruce and thought about e-mailing him. It turns out he had been hit by a car, too. I order my usual coffee and cookie (although I made a mistake and order an iced coffee)
i went by the bank to cash a check. and rode home. I remembered to wipe my lens and took a photo of a
Jacaranda
tree (we had talk about the ubiquitous trees at the Bikejournal reunion), ate, and took off for Van Nuys.
and of course, I forgot some stuff I went out here for until I got back here. I decided to stop by REI while I was out. when I coming down Day Creek, a Rancho Cucamonga Police car pulled out in pursuit. I only mention this beacuse it was set up for filming the TV series "Cops". They had pulled some one over in front of REI (probably for shoplifting in Victoria Gardens) I thought about going to Wal-mart, but maybe another day
Why Jacaranda tree? They bloom this time of year , and I thought it was nice reminder that it is indeed spring